Happy Krishna Janmashtami 2020: Wishes, Messages, Quotes, Images, Facebook & Whatsapp status
As a child, Lord Krishna was a naughty boy who would steal dahi and butter to eat. And so, his devotees remember Krishna on the auspicious day of Janmasthami by reinacting his famous dahi handi scene-- boys form human pyramids and then try breaking an earthen pot fixed at a height filled with dahi.
ALSO READ: IMPORTANT FESTIVALS IN INDIA
On the occasion of Lord Krishna's birth, we share some lovely wishes and messages which you can send to your friends and family. You can also use them as Facebook posts, Whatsapp status or other social media posts.
Also, check out these beautiful images and quotes from Bhagvat Gita which can be shared with your loved ones on Janmashtami.
Krishna Janmashtami: Wishes, messages, Facebook and Whatsapp status
1. May Krishna ji always bless you with happiness, love and peace. Happy Janmashtami to you and your family!
2. Leave all your worries to Lord Krishna on this day and he will take care of you. Happy Janmashtami!
3. This Janmashtami, let's celebrate the birth of Kanha ji with lots of joy and happiness. Wishing you and your family a very happy Janmashtami on this auspicious day!
4. May your life be filled with love, happiness, laughter and Krishna's blessings. Happy Janmashtami!
5. This Janmashtami, I wish Krishna's blissful tunes fill your life with bliss and joy. Happy Janmashtami!
6. May Krishna fill your home and heart with love, joy, good health and happiness. Happy Janmashtami!
7. It was on this auspicious day that Lord Krishna was born to fight against inhumanity and save human kind. Let us reinforce our faith in God today. Happy Janamashtami!
8. Jai Shri Krishna! Have a happy Janmashtami. I pray to Krishna today to take away all your problems and worries. Radhe Radhe!
9. May Krishna's blessings bring you good fortune, health and happiness! Jai Shri Krishna!
10. Remember Lord Krishna's lessons which he taught in the Gita and always follow the path of dharma. Happy Janmashtami!
◾ALSO READ: DOWNLOAD JANMASHTAMI SPECIAL ABCD IMAGES FOR ALL

Krishna Janmashtami: Quotes from Srimad Bhagavad Gita
1. Whatever happened, happened for the good. Whatever is happening, is happening for the good. Whatever will happen, will also happen for the good.
2. Change is the law of the universe. You can be a millionaire, or a pauper in an instant.
3. You have the right to work, but never to the fruit of work.
4. The soul is neither born, and nor does it die.
5. Three gates to this self-destructive hell: Lust, anger, and greed. Renounce these three.
6. When meditation is mastered, the mind is unwavering like the flame of a lamp in a windless place.
7. We're kept from our goal not by obstacles, but by a clear path to a lesser goal.
8. Set your heart upon your work but never its reward.
9. When a person responds to the joys and sorrows of others as if they were his own, he has attained the highest state of spiritual union.
10. Calmness, gentleness, silence, self-restraint, and purity: these are the disciplines of the mind.
ALSO READ: IMPORTANT FESTIVALS IN INDIA
Happy Krishna Janmashtami 2020: जन्माष्टमी पर भेजे ये बंधाई संदेश


◾ALSO READ: DOWNLOAD JANMASHTAMI SPECIAL ABCD IMAGES FOR ALL

1. हाथी घोड़ा पालकी, जय कन्हैया लाल की नंद के घर आनंद भयो...Happy Janmashtami
2. केसर तिलक मोतीयन की माला, वृंदावन को वासी काहू के मन की कोवु ने जाने, लोगन के मन हासी सूरदास प्रभु तुम्हारे दरस बिन, लेहो करवट कासी जन्माष्टमी की हार्दिक शुभकामनाएं
3. काजर धारु किरकिरा जो सुरमा दिया न जाए इन नैनन में पिय बसे दूजा कौन समाए, दूजा कौन समाए Happy Janmashtami
4. माखन का कटोरा, मिश्री की थाल मिट्टी की खुशबू, बारिश की फुहार राधा की उम्मीद, कन्हैया का प्या मुबारक को आपको जन्माष्टमी का त्योहार।
5. दही की हांडी, बारिश की फुहार माखन चुराने आये नन्दलाल हैप्पी जन्माष्टमी
6. कृष्णा का नाम लो सहारा मिलेगा, यह जीवन ना तुमको दोबारा मिलेगा कृष्णा जिनका नाम, गोकुल जिनका धाम, ऐसे श्री कृष्णा भगवन को, हम सबका प्रणाम
7. गोकुल में जिनका वास गोपियों संग जो करे रास देवकी-यशोदा जिनकी मैया ऐसे हैं हमारे कृष्ण कन्हैया Happy Janamasthami
8. इस जन्माष्टमी पर श्रीकृष्ण आपके घर आये और माखन मिश्री के साथ आपके सारे दुख और कष्ट भी ले जाएं। शुभ जन्माष्टमी 2020
9. एक तरफ सांवले कृष्ण, दूसरी तरफ राधिका गोरी, जैसे एक-दूसरे से मिल गए हों चाँद-चकोरी…।।।।
10. देखो फिर जन्माष्टमी आई है माखन की हांडी ने फिर मिठास बढ़ाई है कान्हा की लील है सबसे प्यारी वो दे तुम्हे दुनिया भर की खुशियां सारी हैप्पी जन्माष्टमी
कान्हा!! ओ! कान्हा आन पड़ी मैं तेरे द्वार…ओ!! कान्हा! …मोहे चाकर समझ निहार...कान्हा आन पड़ी मैं तेरे द्वार...
राधे जी का प्रेम, मुरली की मिठास, माखन का स्वाद, गोपियों का रास, इन्हीं से मिलकर बनता है जन्माष्टमी का दिन ख़ास
**************************
अच्युयत्म केशवं कृष्ण दामोदरं राम नारायणं जानकी वल्लभं…HAPPY JANMASHTMI...
चंदन की ख़ुशबू को रेशम का हार
सावन की सुगंध और बारिश की फुहार
राधा की उम्मीद को कन्हैया का प्यार
मुबारक हो आपको जन्माष्टमी का त्यौहार
**************************
माखन चुराकर जिसने खाया
बंसी बजाकर जिसने नचाया
ख़ुशी मनाओ उनके जन्म दिन की
जिन्होंने दुनिया को प्रेम का रास्ता दिखाया
**************************
प्रेम से कृष्णा का नाम जपो
दिल की हर इच्छा पूरी होगी
कृष्ण आराधना में इतना लीन हो जाओ
उनकी महिमा, जीवन खुशहाल कर देगी
**************************
मिश्री से मीठे नन्द लाल के बोल
इनकी बातें हैं सबसे अनमोल
जन्माष्टमी के इस पावन अवसर पर
दिल खोल के जय श्री कृष्ण बोल
**************************
माखन का कटोरा मिश्री का थाल
मिटटी की खुशबु बारिश की फुहार
राधा की उम्मीद कन्हैया का प्यार
मुबारक हो आपको जन्माष्टमी का त्यौहार
**************************
सोचा किसी अपने से बात करें
अपने किसी खास को याद करें
किया जो फैसला जन्माष्टमी की शुभकामना देने का
दिल ने कहा क्यों न आपसे शुरूआत करें
**************************
देखो फिर कृष्ण जन्माष्टमी आयी हैं
माखन की हांडी ने फिर मिठास बड़ाई हैं
कान्हा की लीला हैं सबसे प्यारी
वो दे तुम्हे दुनिया भर की खुशिया सारी
**************************
मुरली मनोहर कृष्ण कन्हैया
जमुना के तट पे विराजे हैं
मोर मुकुट पर कानों में कुंडल
कर में मुरलिया साजे है
**************************
गाय का माखन, यशोदा का दुलार
ब्रह्माण्ड के सितारे कन्हैया का श्रृंगार
सावन की बारिश और भादों की बहार
नन्द के लाला को हमारा बार-बार नमस्कार
**************************
लोगों की रक्षा करने
एक उंगली पर पहाड़ उठाया
उसी कन्हैया की याद दिलाने
जन्माष्टमी का पावन दिन आया
**************************
छोड़ा सबका दामन हठयोग में तुम्हारे
मेरी साँसे उखड़ रही वियोग में तुम्हारे
लौट आओ मोहने किस बात पे अड़े हो
मूर्त बनकर बस मंदिर में क्यों खड़े हो
**************************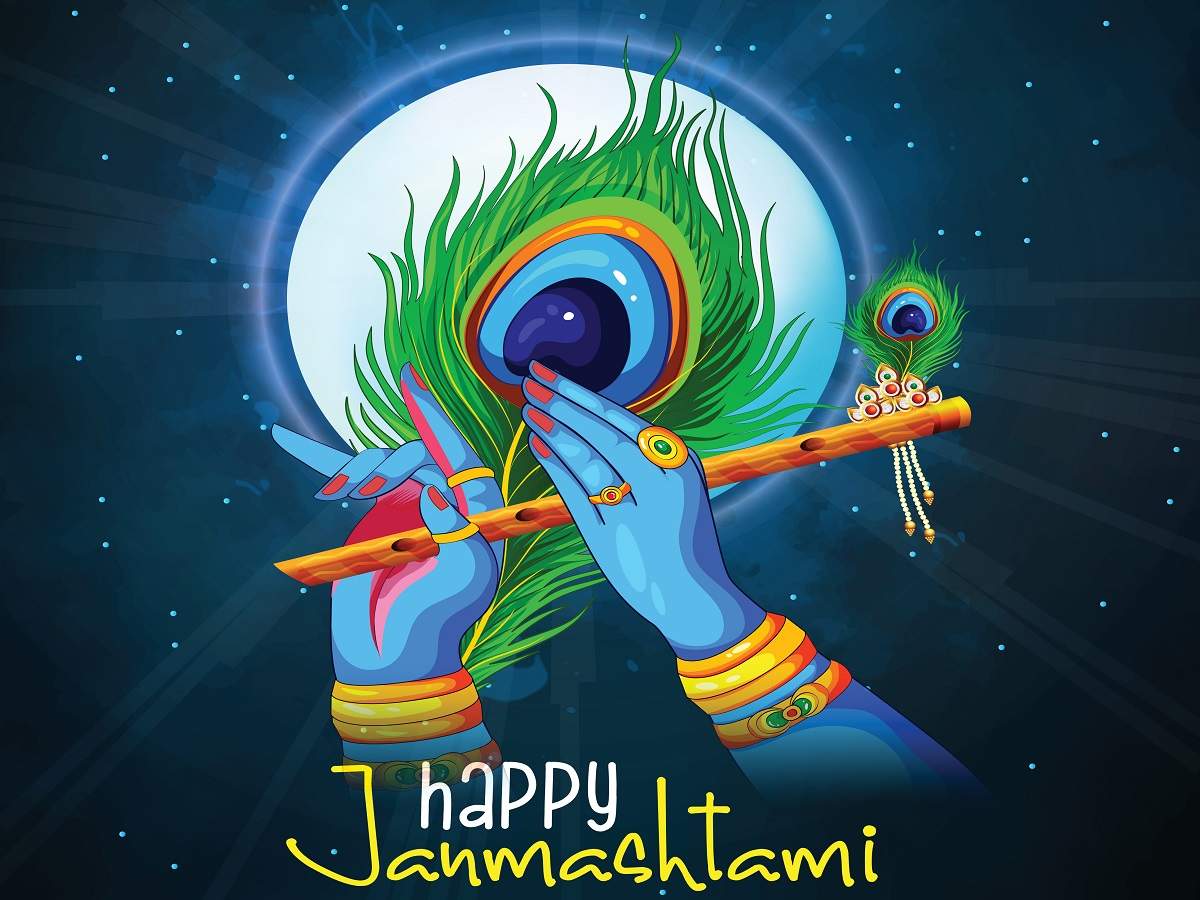 Happy Krishna Janmashtami 2020: Wishes, Messages, Quotes, Images, Facebook & Whatsapp Status
Janmashtami, an auspicious Hindu festival which is celebrated every year with great fervor and excitement as it marks the birth of Lord Krishna.
Hindus across the world celebrate this festival by fasting on this day, decorating their homes for worshipping the God, visiting temples, and offering prasad and donating to the poor on this day. Lord Krishna is considered to be the eighth incarnation of Lord Vishnu. Krishna was born to Devaki and Vasudeva,in order to protect the citizens of Mathura from the evil King Kansa. Lord Krishna also playd an important role in helping the Pandavas win the battles of Kurukshetra from Kauravas.
Krishna gave some of the biggest life lessons while enlightening Arjun with the gyan. If we follow even a few of those lessons, the reason behind our existence would be fulfilled. This Gokulashtami or Janmashtami 2020, take a pledge to transform all your negativity into a positive approach in life. Here are some of the Most Positive 20 Quotes by Krishan, that can change your perspective in life.
1. It is better to do one's own dharma, even though imperfectly, than to do another's dharma, even though perfectly. By doing one's innate duties, a person does not incur sin.
2. Hell has three entries- greed, anger and lust.
3. Perform your obligatory Duty, Because action is indeed better than inaction.
4. Whatever happened was good, what's happening, it's going well, whatever will happen, will also be good. You need not have any regrets from the past. Do not worry for the future. Live in the present.
5. Change is the law of the universe. What you think of as death, is indeed life. In one instance you can be a millionaire, and in the other instance you can be steeped in poverty.
6. This body is not yours, neither are you of the body. The body is made of fire, water, air, earth and ether, and will disappear into these elements. But the soul is permanent - so who are you?
7. Fear Not. What is not real never was and never will be. What is real Always was and cannot be destroyed.
8. A man is made by his belief. As he believes, so he becomes.
9. Whenever dharma declines and the purpose of life is forgotten, I manifest myself on earth. I am born in every age to protect the good, to destroy evil, and to reestablish dharma.
10. That one is dear to me who runs not after the pleasant or away from the painful, grieves not, lusts not, but lets things come and go as they happen.
11. Just as a reservoir is of little use when the whole countryside is flooded, scriptures are of little use to the illumined man or woman, who sees the Lord everywhere.
12. That which seems like poison at first, but tastes like nectar in the end – this is the joy of sattva, born of a mind at peace with itself.
13. When meditation is mastered, the mind is unwavering like the flame of a lamp in a windless place.
14. You have the right to work, but never to the fruit of work. You should never engage in action for the sake of reward, nor should you long for inaction.
15. Do your work with the welfare of others always in mind. It was by such work that Janaka attained perfection; others too have followed this path.
16. The senses are higher than the body, the mind higher than the senses; above the mind is the intellect, and above the intellect is the Atman. Thus, knowing that which is supreme, let the Atman rule the ego. Use your mighty arms to slay the fierce enemy that is selfish desire.
17. Actions do not cling to me because I am not attached to their results. Those who understand this and practice it live in freedom.
18. Those who surrender to Brahman all selfish attachments are like the leaf of a lotus floating clean and dry in water. Sin cannot touch them.
19. Free from anger and selfish desire, unified in mind, those who follow the path of yoga and realize the Self are established forever in that supreme state.
20. It is not those who lack energy or refrain from action, but those who work without expectation of reward who attain the goal of meditation.
DOWNLOAD MORE: JANMASHTAMI WALL PAPERS | LORD KRISHNA WALL PAPERS
MAY LORD KRISHNA BLESS ALL OF US..
HAPPY JANMASHTAMI TO ALL FRIENDS.