Amul Haldi Doodh Can 200ml
Amul Haldi Doodh Can 200ml | REVIEWS INFORMATION DETAIL PRICE BENEFITS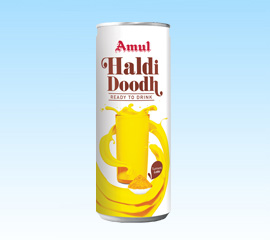 WWW.KAMALKING.IN
Product Details
Product Name:
Amul Haldi Doodh Can
Description:
Goodness of milk with the centuries old immunity-boosting and healing properties of Haldi; made delicious with Kesar and Badam flavour
Packing:
200 ml Can
Product Specifications
Composition:
Milk solids, Sugar, Turmeric Extract
Nutritional Information:
Nutritional Information*
Amount per 100 g
Energy, kcal- 112
Total Fat, g- 4.6
Saturated fat,g- 3.0
Trans fat, g- 0.2
Total Carbohydrate, g- 13.9
Added Sugar, g- 8.1
Protein, g- 3.6
Calcium, mg- 126
*Approx. values
Shelf Life:
180 days when stored in cool and dry place
Storage condition:
Ambient
Product Features
Amul Haldi Doodh is a milk-based drink, with real Turmeric extract and added Kesar-Badam flavor.
Not only in India, Haldi Doodh is celebrated globally and famously called "Turmeric latte". In fact, Haldi is an integral part of everybody's life given its widely known medicinal properties.
An age-old traditional drink in modern branding and packaging.
Product Application
To be taken directly on move (small packs) or at home.
Tastes best when chilled
Available in (Segments/Markets)
Amul Haldi Doodh is available all over India.
AMUL INTRODUCES "AMUL HALDI DOODH" TO STRENGTHEN IMMUNE
The new product comes at a price of Rs 30 for 200ml easy-open-end can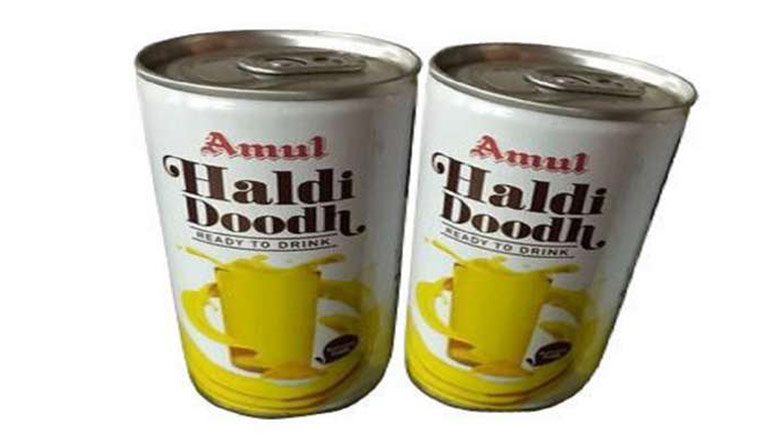 At a time when people are looking out for options to build immunity during the COVID-19 pandemic, dairy brand Amul has introduced 'Amul Haldi Doodh', a ready-to-drink turmeric milk.


An official of Amul noted that in the wake of the virus outbreak, the AYUSH ministry had released guidelines for people to adopt preventive measures for self care. The ministry particularly recommended people to consume haldi doodh or golden milk to keep their immunity level high, he said.
A statement from AMUL said that in order to provide a ready-to-drink option to the consumers across the country, it has launched an affordable and easily accessible immunity booster beverage 'Amul Haldi Doodh', known for its anti-bacterial and anti-inflammatory properties.
Combined with the goodness of rich and creamy standardized Amul milk, turmeric makes for a perfect immunity booster beverage that has all the properties to stave off illness, the company said. Besides being healthy, 'Amul Haldi Doodh' has flavours of kesar and badam. This drink can be consumed regularly by any age group at any hour of the day. It comes at a price of Rs 30 for 200ml easy-open-end can, the company added.
The drink is available at all Amul parlours and retail counters, it said. The product is being packed at state of the art manufacturing plants in west and north India, having production capacity of 2,00,000 packs per day.
The company said it will soon launch a range of more such natural and healthy drinks like ginger milk and tulsi milk.
Amul is already offering 'Kadhai Doodh', jiggery-based 'Gur Doodh', Ayurvedic memory milk and malt drink among others.

Amul is all set to launch two new flavors- 'Haldi Doodh' and 'Irish Mocktail'. Both the drinks will be rolled-out by Amul for the first time in Easy-To-Open Cans. It is targeting nearly 5 % of the total milk-based beverage market.
India: The Gujarat Co-operative Milk Marketing Federation or GCMMF, the body that markets Asia's largest milk brand Amul, and all the district dairy unions of Gujarat, is all geared up to launch 'Haldi doodh' or turmeric milk along with an 'Irish drink mocktail'. Both the drinks are being introduced in the country for the first time.
Popularly known as Amul Dairy, the Kaira District Co-operative Milk Producers Union Limited has already started with the production of the new varieties of milk that will be available to consumers in Easy-to-Open End (EoE) cans. The new varieties are being manufactured at the Amul Dairy plant in Anand by using the existing infrastructure of the plant that has the capacity to manufacture 1.50 lakh units each.
The managing director of GCMMF commented that Haldi has been classified as a superfood, as it boosts immunity. It has been used as an ayurvedic remedy for a huge number of ailments with milk for centuries. It has been used as a household remedy due to its medicinal properties. 'Haldi doodh' has also been gaining popularity globally and is being sold as 'turmeric latte'.
The Irish drink mocktail is inspired from the famous Irish Coffee or Baileys, which originally contains whiskey. It will be sold as a Mocktail, without any alcohol content. The officials from GCMMF believe that Irish drink will disrupt the beverage category and become the new high of 2018
With the launch of the new milk-based beverages, the country's largest co-operative is targeting Rs 100 crore – nearly 5 % of the total milk-based beverage market.
◾ALSO READ: NEW LATEST GOVERNMENT JOBS APPLY
According to TechSci Research, India is the largest producer of milk and dairy products in the world. The country has experienced tremendous improvement in per capita availability of milk over the last five years. In the recent years, the domestic players have started introducing packaged flavored milk, as the urban Indian consumers are showing a shift to value-added dairy for its convenience and health benefits. The flavored milk market in India is anticipated to show robust growth as consumers are substituting less healthy beverages like carbonated soft drinks, and even juices, for flavored milk. This growing popularity of Floured milk will also lead to the growth of dairy products market in the future years.
According to the recently published report by TechSci Research, "India Dairy Products Market, By Type (Drinking Milk, Ghee, Butter, Ice Cream, Milk Powder, Cheese, Yogurts, Probiotic Drinks and Others), Competition Forecast and Opportunities, 2011 – 2021", he market for dairy products in India is projected to grow at a CAGR of over 7% during 2016 - 2021. In 2015, North India dominated the country's dairy products market, on account of increasing per capita expenditure, rising youth population, introduction of value added dairy products, changing consumption patterns, and growing penetration of international players. India dairy products market is witnessing a shift towards healthier products such as probiotic drinks, yogurts, etc. Few of the leading players operating in India dairy products market include Gujarat Cooperative Milk Marketing Federation Ltd., National Dairy Development Board, Karnataka Cooperative Milk Producers Federation Ltd., and Tamil Nadu Co-operative Milk Producers' Federation Limited, among others.
According to TechSci Research, the growing adoption of dairy products like milk, flavored milk, yogurt, etc. in the country coupled with the increasing outbreak of food-borne diseases have given rise to Dairy Testing in the country. The milk from cows can sometimes contain bacterial infections that can cause serious diseases in humans and therefore dairy testing is a must. The Dairy Testing market in India is expected to witness significant growth in the coming years.
According to the recently published report by TechSci Research, "India Dairy Testing Market, By Type (Safety and Quality), By Technology (Traditional Technology and Rapid Technology), By Product (Milk & Milk Powder, Cheese, Butter & Spreads, etc.), By Company, Competition Forecast & Opportunities, 2013 – 2023", India Dairy Testing Market is projected to grow at a strong CAGR over the next five years. The major factors contributing in the growth of the market are growing technological advancements in testing industry, upsurge in outbreaks of foodborne diseases and growing demand for healthy products. Based on technology, the market is segmented into traditional and rapid technology. In 2017, the rapid technology segment dominated the Dairy Testing market and is expected to maintain its dominance over the next five years as well due to higher accuracy, low turnaround time and ability to test a wide range of pollutants as compare to traditional technology.